Forever With You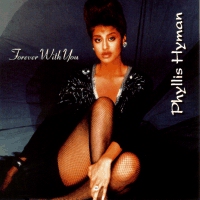 The CD is a collection of previously unreleased studio tracks. The 12 tracks were recorded in the period between 1985 and 1995.
The full-length CD was released by Philadelphia International Records (PIR) on July 28. A CD single "Funny How Love Goes" was released as well. The song was recorded by Phyllis during the "I Refuse" sessions. Initially a solo vocal, the song recently became a duet after a new PIR artist, Damon Williams, was brought in to add vocals.
Here is the track listing for the CD:
1. Forever With You
2. Funny How Loves Goes
3. Come Right Or Not All
4. Strgenth of A Woman
5. Hurry Up This Way Again
6. How long
7. Someone To love
8. Tell Me What You're Gonna Do
9. The Kids
10.Set A Little Trap
11. No One But You
12. Souvenirs
********************************
Some of you may have seen advertisements for a Phyllis Hyman CD entitled "Phyllis Hyman Remembered" which was released in Sept. 98. The Phyllis Hyman estate is making it clear that they do not approve of this release and have nothing to do with it. Phyllis recorded some of the songs as a favor to somebody. They were recorded purely as demos and were never intended for commercial release. Glenda Gracia, PH's manager, would like all the fans to know that this is NOT the "new" Phyllis CD and should NOT in any way be confused with the Forever With You project !
That's all for now! I hope everybody is as excited about the new CD as I am !! E-mail me your review of the CD so I can include it in the next issue of the PH Newsletter!