Three Days With Tony Ashton
Incomplete report of a crazy time, written by Ernst Brunner, revised by Chrigel Burkhard
Tony Ashton's Swissband 1985 - 1990.

Personnel:

Tony Ashton: Piano, Vocals
Ernst Brunner:Drums
Charly Reber:Bass
Chrigel Burkhard :Guitar

Introduction

It started with the fact that Tony Ashton appeared again in the sound calendar, to our astonishment shortly after his last performance. Beforehand, we could hear him on the occasion of his Swiss tour with his album "Live in the Studio" in Bern and Zurich and some other cities.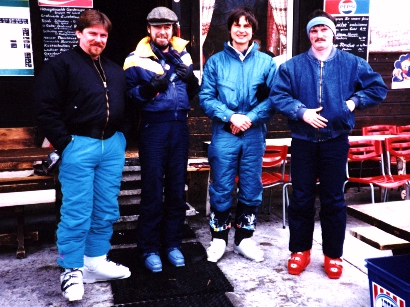 Oddly enough the show came off in the hotel Schifflände in Zurich. Somewhat irritated, I placed a call to ask whether this was true and because I feared not to gather a ticket I asked for a reservation. This could only be given in conjunction with a dinner. In the evening, I drove there with Lizzy and Agi followed by train later in the evening. The situation we met reminded me of Ashton's concert at Mascotte in Zurich. Some dashing snobs, some dining guildeners (today they celebrated their Sechseläuten), hardly one who recognized that somebody drudged on the piano. Soon we were alone and together with the still playing piano man in an almost ambarrassing intimity. We chattered for a while. He told us about his troubles in England. Altogether, rather frustrating! At one time and point of the evening the question was rose why he was playing at such places. Despite of his "Oh, it's nice here. I like it! Cheers!" we realized that he felt uncomfortable. We checked out: Grabenhalle, National, Klosterhof? One thing was clear: we were fond of organizing a concert with him. During his next break (still no audience) Agi asked him how much he would earn in one evening. He made his salary known, however, he explained that the bigger problem was his home trip, an apex flight planned Sonday in two weeks. That is to say that we would have to pay his return flight. We said good-bye at about 1:30 a.m. and promissed to return and to check out in the meantime what we could do concerning a gig. He promissed for his part to talk with his manager (later on we realized that his manager was his girlfriend). Nearly a whole week passed by. At Thursday I informed Charly (who happened to be back from Neapel) about my schnapps idea to play together with Tony Ashton. Furtunately, he was thrilled and therefore, he joined us on Sunday evening.
Unfortunately, we could not speak with Ashton alone on that Sunday evening. Taken in his tow were Edy Schwager, Micky Waller and some EMI people which were listening partly interested and partly with a compassionate smile on their face how we tried to convince the star to play with us. EMI boss Teddy Meier discouraged us with some remarks which did help to ease our affair by no means. Suddenly, it cleared up. Charly grasped the initiative and told Ashton that, in fact, we were musicians and not managers and that we would like to know whether he would be fond of playing with us on or two gigs. "It would be a great pleasure for us. What's Your meaning about?"
I wondered several times this afternoon what he would answer to this question. I was bursting from tension. Without any thought he meant:Okay, maybe we have fun together". I thought,that was it? Again I had the feeling that he did not grasp what we expected. We discussed bits and pieces of the gig. His comments were: "Yeah, great, that's nice, no problem, okay." I was completely happy, but somehow, I did no more understand the world. I and Tony Ashton - Tony Ashton mit mir. We decided to come together again on Tuesday to discuss the remaining stuff.
Now, let's organise! Charly dealt with the Domino in Schaffhausen. Mine and Agi's task were the Bräustübli in Lindau and the Klosterhof in St. Gallen. Furtunately, Bigitte and Sändy did visit us that weekend. After enjoying a wonderful Sunday, I convinced Sändy to designe a poster. Obviously, he was pleased with this task and let flow his talent. The poster was very good, much better than others I had seen before. In less than half an hour designed and topped by a "Gin idea". "Imported from England". As mentioned before the organisation rushed with high speed during the following week. Charly and I phoned several times daily. We thoroughly went through the difficulties a manager has to deal with. I addition, Ashton was despite of "Chuchichäschtli" not a Swiss gay and he was obliged to get a immigration permission and a permission to play. Besides that we had to organise a cheap flight and by the way the poster were not able to distribute themselfes. We believed that in the Klosterhof in St. Gallen we would have the fewest problems because it is a small club and Tony Ashton is still very popular (many people remember Ashton, Gardener, Dyke + Co at the Africana). This gig was anyway planned as a piano-solo-job and this meant that we had not to deal with Werner's "sound craft". Fortunately, I could lend out a small PA from the theatre of the city. More difficulties we faced with the gig at Bräustübli in Lindau. Somehow, everything was a little bit to stressy for the collective of the Bräustübli. For me they seemed to be for the first time slightly exhausted and tired. I explained who was Tony Ashton and what he already had left behind him. (Of course not, what he will face in the future). The comments were throughout the discussion: " Yes, but - however!" I was convinced that they only agreed because all the risk layed on our shoulder. We were playing for the tickets. This means without any costs for them. - If there will be no audience we will make long faces. I left the Bräustübli without knowing what will happen on next Monday.
Tuesday evening we met the last time with Ashton at the Schifflände. Also the people from EMI were present. For the EMI people, he still seem to attractive and he was in a very good mood and for the first time we enjoyed a very good communication with Ashton. We explained to him the last details and showed him the the poster and he remarked: : "That's the proof of the pudding." Everything ok! He should receive his flight ticket on Thuresday. We will pick you up at the airport on Sunday afternoon. "Okay, great, thanks a lot."
Agi and I went to Lindau on Wednesday. We spread out posters and distributed infos. A funny detail: We were in a youth house and requested to fix there a poster. The janitor examined the poster, reflected shortly and sayed that he has to ask the preast. Ashton remarked later on: "Nice one."
In the Bräusübli we spead out a lot of infos and Posters and, in addition, the cover of his last record on the wall. This time somebody was present who new Ashton. The guy was very exited, made a big rush and informed all his friends - now it looks much better. The day after, Charly told us the news from Schaffhausen. We were full of stress, but happy. Although the "Mosergärtler" refused to book in their program we were confident.
Three days with Tony Ashton
Sunday, April 28th, 1985.
We unloaded the van during a snow-flurry and prepared it for our mini-tour. During our trip to Zurich, bad thoughts arose like for example: what can we do if were informed that Tony Ashton has already left yesterday. But is turnes to the good. In the afternoon we meet in the hotel Schifflände. Tony was enjoying his (approximately) second beer and is involved in an exiting discussion with the barkeeper. They talked about settling down in Switzerland. The discussion of the barkeeper was full of unprofessionality, for example, he explained Tony that he would be obliged to speak Swiss-German before he would be accepted as Swiss citizien. And in addition, the young people do no loger know what hard work means. His age is, by the way, about twentyeight! We are happy to leave soon, direction Schaffhausen. On our way we pass by Klaus Imhof and pick up a Yamaha-piano for Tony. Of course, Klaus is surprised to meet important visitors and therefore, he is more talkative than Charly and I were. "We ought to rehearsal". Tony suffered from slight headache because of the old antiquated Hammond from Klaus.
The Rehearsal
Arriving in the Domino in Schaffhausen, we discovered that Werner and Chrigel had already paved the way excelently. The equipment were installed, the instruments were added. In the meantime Tony enjoyed "his" beer. Everything OK. Everybody strumed a little bit around checking out each other. "What we're gonna play?"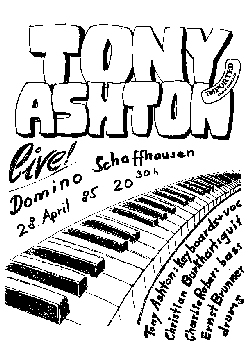 Whilest playing, I feel Ashton's immense force; it's like easy going. From time to time I glimps at Charly and I think he feels the same. Our eyes were glittering. Tony took over leadership. We tried out, we adapted, we recounted (nice, if "One, two, three...." is not a foreing language). He makes new arrangements but never accompanied with remarks such as "I mean only... I mean, no hussels, You know." The repertoire is fixed. Finally, he sayed that the most important thing will be: "Listen to each other and have contact." We move the the Restaurant Walliserkanne and had dinner (Fondue). Tony enjoyes us with jokes. I leave it to others to review the gig, but mean:
"Who has heard it, has heard it
who has seen it, has seen it
who wasn't there, has let it slip
The ones who were here are happy that they were here."
(Quotation from Polo Hofer)
At late night we move to Charly's flat (Sändy, Knöpfel, Werner and others). We had a big party. It was a great night, Tony was obviously in a good mood and satisfied and he made a phone call with his wife. He was the first one to go to bed. We went on with the party.
Monday, April 29, 1985
Stormy Monday! We all sleep until noon. Breakfast as usual, 2 hot chocolates, 1 coffee, each with croissants and a beer ( who's getting what?). Somehow, it's getting 3 p.m. until we are ready to leave. Since I had to move the equipment it was too late to drive past my home in Honegg. Therefore, I travel with Mabu (replacing Chrigel who was obliged to be in the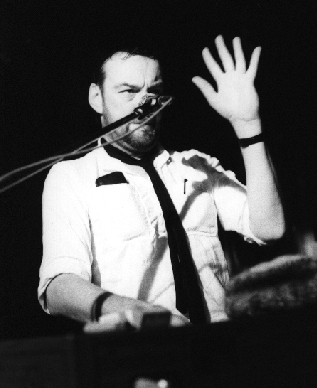 Swiss Army, unfortunately) directly to the Bräustübli at Lindau: Charly, Tony and Tizzi arrive a little bit later after a stop at my home at Honegg. I have been told that Tony enjoyed a long and hot bath. We are reliefed: The Bräustübli gets crowded. Werner who arrived with Hanspi made a short sound-check and at 9:00 p.m. we are ready to start. A "video-freak" started recording. Somebody is asking us whethere we could play in the Inselhalle on next Wednesday. Happy, we would be! The gig goes on very smoothly, but without the highlights of the eve in the Domino. But the main point is: "The boss is happy, it's ok". In the Bräustübli, it's still snuggy for a long time. A young "Lindauer-boy" (he is told to have rich parents) is becomming our sponsor for this evening. Towards two o'clock we drive home. Fortunately, we had no difficulties at the custom. At home we sit together for a litter while. Tony spread out some compliments and promises to intend to return soon. "Maybe, I have new stuff". Of course, we all look forward to see him again. I promis to order good weather for the next trip (it's pouring with rain). I am somehow sad that it will be over soon. Tony again is calling up Sandra and goes to bed - we are not.
Tuesday, April 30th, 1985
Today, I have orchestral service. When I return, everybody is still sleeping. Tony look rather crumples every morning (afternoon in fact). We have something to eat in the Rössli at St. Anton. I show Tony the famous bells from Appenzell. Apparently, he likes them but he seems to be nervous in a strange way. We set down and the waiter brings us the menu and awaits our order. Everything completely normal. All of a sudden, it goes too far for Tony. He pulled me by the sleeve: " Sorry, could I have one beer? - I mean - quickly". He is not hungry. We spend a quiet afternoon. Tony tells us stories about musicans which is, of course, very interesting to us. He really knows every pig and knows stories about everybody. Late afternoon, Charly and I drive to the Klosterhof to organize everything for the evening. Arriving there, we realized that the piano is in a terrible shape and in addition, not tuned at all. Tony arrives after 9:00 p.m. The place is already croweded. I ask him to have a look at the piano. He tries some accords with this old instument, turnes pale and crumbled: "Let's have a beer". Of course, he is too gentile to say that he would not like to play on this piano. However, we know exactly how he feels. I rush to the theatre and look out for a better one. I was beyond all rage. A back and forth in the theatre. Nobody seems to be responsible to hand over a piano; apparently, even not the director. Finally, we succeded. Now, transportation. Back in the Klosterhof it is 7:50 p.m.. At 8:00 p.m. I have a performance at the theatre. Fortunately, Hanspi helps with the transport. Many thanks to him and Jochen Wagner. I rush back to the theatre and first play the overture, then help entruck the piano.To all evil it rained as it does in a cheap criminal story. Afterwards, I sprint into the orchestra pit, but promptly I miss my intonation. "Fuck it". Just in time, Tony's gig is starting in the Klosterhof at St. Gallen. After my concert I am told that the gig was great. Tony play one encore after the other, I was told. Charly and I are happy. At home, we celebrate a little bit our mini-tour. Tony makes his inevitable phone-call. Again, he promisses to return and to play with us. "It was great, I'll miss you guys. No, really!".
It's All Over Now
May 1st, 1985. Today, Tony travels home. We hope the best for him. So far, an extract from the diary by Ernst Brunner.
After that, we performed many gigs with Tony. Mostly, we made 3 gigs in serie, that means we travelled during weekends. Usually the pay was used for travels, excursions (for example Hoher Kasten) and real good food. The next gig took place in the Volkshaus at Zurich with John Mayall and the "Winterthurer Rockvereinigung". It was a very exciting gig which lasted only for one hour. Good sound, good catering, nearly like real life. After the gig, we had a big party with Teddy Meier and Claude Nobs, which are really good friends of Tony. The gig by John Mayall was super, they played like champions. After the gig, the drummer of John Mayall sked us whether we were touring. Unfortunately not, we all have our jobs. It would be great to have enough gigs to live from them. A little taste of touring we experienced, when we played in the Pink-Elefant-Bar at Zermatt one year later. Already the 3rd evening we played so close together that we could imagine how excellent we would be if we would play together during the whole year. A highlight was the visit of Jon Lord, a good friend of Tony. When he invited us to the Spaghetti-factory in the Restaurant "Pöschtli". Jon and Ernst were absorbed in a discussion about orchestrial work and very quickly the evening passed away.
Our gigs were:
Volkshaus, Zürich
Albani, Winterthur
Autostopp, Tessin
Scala, Bubikon
Music Bar Domino, Schaffhausen
Mühle Hunziken, Rubigen bei Bern
Bären, Huttwil
Hirschen, Beinwil am See
Stadtkeller, Luzern
Openair, Neunkirch
Openair, Val Lumnetia
Openair, Chappella
Openair, Schadaupark Thun
Dreikönige, Chur
Pink Elefant Bar, Zermatt
Haifischbar, Zürich
Expressbar, Davos
As well as some others which I might have forgotten, who wonders, it's a long time ago. Alltogether, the time we spent with Tony was very exciting, instuctive and funny. Each of us did learn a lot, however, it was not always easy. These were experiences I never will forget because Tony has a touchy attitude that we call the pure soul. Whether he plays piano or sings, makes jokes or his ludicrous and fascinating show with the hats or whether he pains, it is always the same toughy and pure soul.